Nicole Cares Foundation in the News!
Our Founder & CEO, Nicole C. Bullock, was interviewed on ABC 7 Eyewitness News for the Great Chicago Blood Drive. Nicole shared her journey and encouraged people to become blood donors to address the current critical blood shortage in the United States.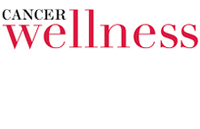 During blood cancer awareness month, we were featured in Cancer Wellness Magazine bringing awareness to blood cancer and discussing our programs.
https://cancerwellness.com/non-hodgkin-lymphoma/nicole-bullock-nicole-cares/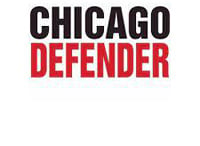 Our 2nd Annual Blood Drive was featured in The Chicago Defender Newspaper. We partner with Faith Movers Church annually to ensure area hospitals and patients have access to blood when needed.
https://chicagodefender.com/nicole-cares-foundation-hosts-2nd-annual-blood-drive/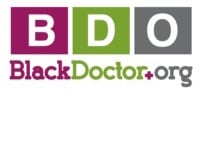 A Story of Survival - Our Founder & CEO, Nicole C. Bullock, shares her cancer journey and work of the foundation.
https://blackdoctor.org/a-story-of-survival-non-hodgkin-lymphoma/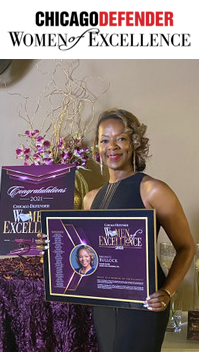 Congratulation to Our Founder & CEO, Nicole C. Bullock, on being honored as one of 50 influential women to receive The Chicago Defender's Women of Excellence 2021 Award! Nicole received this prestigious award for her work in the community with The Nicole Cares Foundation.
https://chicagodefender.com/black-women-shine-during-the-2021-women-of-excellence-induction-ceremony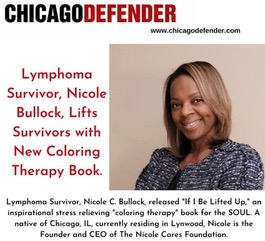 Our Founder & CEO, Nicole Bullock, was featured in The Chicago Defender on November 25, 2020, discussing her journey with Non-Hodgkin Lymphoma and the release of "If I Be Lifted Up", a coloring therapy book for the SOUL.
https://chicagodefender.com/lymphoma-survivor-nicole-bullock-lifts-survivors-with-new-coloring-therapy-book/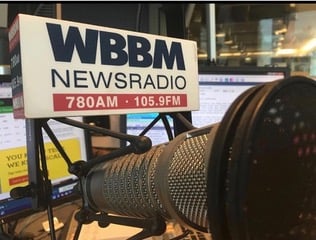 Our first annual blood drive in partnership with Faith Movers Church was a huge success! Our Founder, Nicole Bullock, was interviewed by Felicia Middelbrooks of WBBM Newsradio 780 AM - 105.9 FM, where she discussed lymphoma and the upcoming blood drive. The event was held on Saturday, March 30, 2019, and was a huge success with over 50 donors giving the gift of life. A special thank you to the donors and everyone who made this event a success!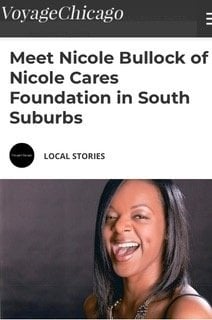 Our Founder, Nicole Bullock, is currently featured in VoyageChicago.com Magazine as one of "Chicago's Most Inspiring Stories"
Meet Nicole Bullock of Nicole Cares Foundation in South Suburbs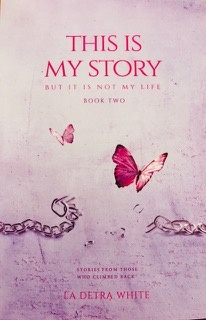 It's official! Nicole is a proud contributor for the book: This Is My Story But It Is Not My Life - Book Two. In Chapter 5, Nicole shares her intimate story about her journey with cancer and how God brought her through. The book features thirty-three contributors who poured their hearts into this project by sharing their stories of climbing back.
For purchase information, please contact info@nicolecares.org.
Nicole's journey with cancer is featured on the Leukemia & Lymphoma Society (LLS) website. Nicole discusses her diagnosis and survivorship on the site.

https://www.lls.org/story/nicole-3

Nicole Bullock, President & Founder of The Nicole Cares Foundation, was the featured guest on The Kimberly MyVoice Show on intellectualradio.com via iHeart Radio. Nicole discussed her journey with lymphoma and the outreach services offered by the organization.